Davis, WV
September 24, 2016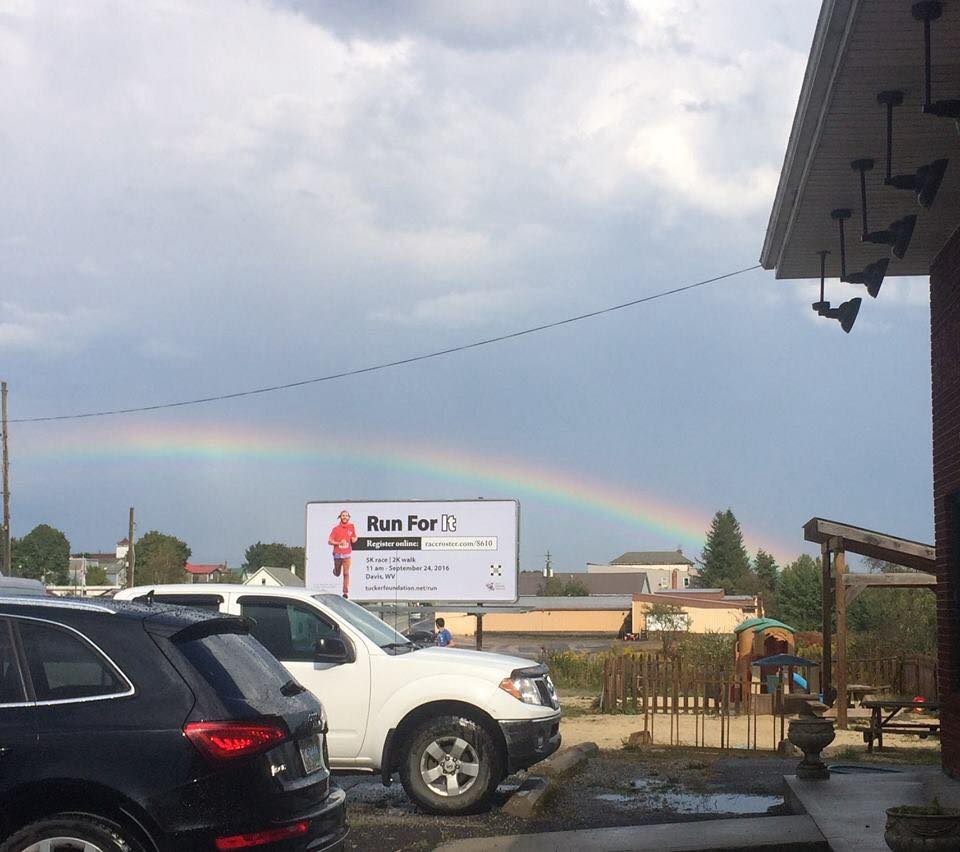 'Why don't you walk with me?'  My cousin 'Kigali' Claire had flown in from Rwanda the previous day with a tantalizing idea.
I sighed.  'That sounds awfully nice.'  The pain that had angered my left kneecap on Monday was still making me limp.  I'd also gotten my period that morning and was doubled over, both hands clutching the belly.  I was still in sweatpants even though the sun was getting wicked hot.  I did not look like much of a runner.  'I wish I could.'
She shot me a perplexed look.  We hadn't seen each other much over the last decade, ever since she started her grand life adventure tour of Beijing-London-Berlin-Kigali.
'Aaron said I should pick priority races.  I should be less of a turd runner.   So I picked three special races this year to focus on.  I planned my work travel schedule around them.  I trained.  And then I missed the first two because I was injured.  I sucked double butt this year at Priority Races.  Today is my last chance.'
'But this isn't a marathon or anything.  Why'd you choose this one?'
'I didn't pick my races because they were big things.  But they have a special place in my heart.  Laurel was my first ultra.  Escarpment was my first trail race.  And Run For It is this awesome little race in our beloved Canaan Valley.  For the past 5 years I've wanted to run it.  And every year there's a stupid conflict: a work trip, a Bar Mitzvah, an injury…'
'Wait, you've never run it before?'  Cecily had woken up at the crack of dawn and driven three hours….for what exactly?
'No, never,' I sighed again in resignation.  'That's why I need to run today.'
~          ~          ~
Aaron, Cecily, Claire, and I were all on the Heart of the Highlands team.  What makes Run For It so unique is the prize structure.  You don't win prize money for yourself, but for the charity you've designated.  The overall winner gets $1000 to the charity of their choosing, second place is $750, third is $500, etc.  Age group winners get $100.  Our friend Dan Lehman was organizing the Heart of the Highlands team to raise money for trail building.  I was torn because there was also a Tucker County Animal Shelter team.  But Dan is awesome.  And Aaron and I live for Canaan's trails.  But I vowed that if the TCAS didn't raise much money this year, next time I'd run for the kitties.
I've learned that the start of 5k races are shit shows.  All the kids position themselves right at the starting line, and it's like a herd of cats.  Some flash out like it's a 100 yard dash.  Others plod along, causing ripple effects of destruction as the mob wildly circles around.  I took an elbow to the face, realized I was totally boxed in at the mob's center, and sprinted to the outside to find some clearing.  It got my heart rate shooting up so high, I coasted on pure terror and adrenaline all the way to the front pack, ahead of the other women.
I found myself playing my favorite running game with 2 dudes.  The game is called Weeeee Down the Hills!  Booooooooo Up the Hills!  I'd get passed by both dudes up all the hills, then flip a switch and pass them both down the hills.  It occurred to me that bombing down hills wasn't the best thing for my injured shin and knee.  But try telling that to the lungs.
Now, Aaron and I'd had a pre-race conversation that went something like this:
'So the race winds around up like a snake through the neighborhood.  You start out going east and then….'
'No, no, no,' I cut him off.  'Don't confuse me.  There are mile markers.  I'll be fine.'
~          ~          ~
Marmots should perhaps glance at course maps.  They don't like to, with all those confusing squizzly lines.  There was a marker for Mile 1.  But that only made it more disturbing when there was no marker for Mile 2.
The course was a lot harder than I anticipated.  All those hills gave me and my 2 dudes plenty of turf to play our little hill game, switching the lead at least 10 times.  It was also a lot hotter than it was supposed to be.  By the 11am start time the sun was blaring.  Claire deeply regretted wearing jeans.
My legs got heavier and heavier with each hill.  Maybe it was because my racing flats were packed in storage.  Aaron and I are moving into a new home on September 30th, and in order to sell my apartment we've been homeless since late August.  We remembered to keep toothbrushes and and checkbooks, but barely a day went by without me realizing I needed something that had been packed away.  You know I'm all messed up when I don't even have any gummies to carry on my runs (I finally found some raisins).  Poor Aaron's going full bush this month because he packed his sideburn clippers.
Or maybe my legs were heavy because I'd run the NIH 5 x 800m relay two days earlier.  Not the best plan to barely run all summer and then try to sprint a half mile.  Even stupider to follow up your little Intro to Speedwork with a 5k two days later.  But our FIC Globetrotters relay team nabbed its first top-10 finish in history (this was the 33rd year of the NIH relay), finishing 7th out of 107 teams.  It was worth it.
Or maybe I felt like death because I hadn't been sleeping for a month.  Doug and Kerry have been extraordinarily gracious in letting me and Aaron crash at their pad in Woodley Park for our month of homelessness.  But marmots, like kitties, are poor at adjustment.  The marmot has been through the ringer this summer, particularly the last month.  My poor kitty got so stressed out living with my parents that she scratched her ear, making a hematoma that needs to be surgically removed.  I detailed my own typical night in my last blog post, The Hungry Badger.
But if I had to make a top-10 list for why my legs felt like lead, it would go something like this:
10. Had to wear clunky trail shoes;
9. Got my period that morning;
8. Had gummy bears for breakfast;
7. Blasting sun heat (wearing just a sports bra was a good call);
6. The elevation profile looked like this: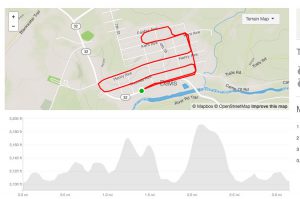 5. Haven't been running much (injured all summer)
4. Tired from the NIH relay
3. Despair that I still hadn't reached a second mile mark 18 minutes into the race
2. A month of not sleeping
1. A month of not having my kitty.
But this race was my last chance at redemption.  2016 was supposed to be a big race year for me.  The sixes always are.  In 1996 I was a State Champion in cross country.  In 2006 I ran my first Boston Marathon.  I had big plans for 2016.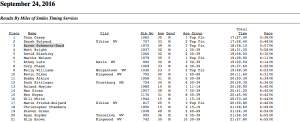 My time wasn't very fast (19:09).  I was not my peppy self.  I didn't even have the energy to give a thumbs up to folks cheering from their lawn chairs.  But I finished right in between the 2 dudes, one ahead and one behind, and won the women's race.  Aaron made sure that I stepped back after the race and gave myself a smidgen of credit for rallying.  It was a tough course, a hot day, I wasn't in race shape, and I still beat a  WVU trackster by a margin as wide as Aaron was ahead of me by.  Thumbing through the results going back to 2009, I couldn't find a female who'd run faster.  Sure, it's a little local race of a couple hundred people.  But after feeling like I've been through a blender these last months, particularly low after I wasn't even in shape to run the Women's Half Marathon, it was nice to see even a shard of daylight.  And together, Cecily (2nd in her age group), Aaron (3rd overall), and I brought in $1,600 for Heart of the Highlands!
Overall, Run For It was everything I'd dreamed it would be, rivaling This Race Is For the Birds in small-town spirit and adorableness.  I kid you not one of the 5k finishers was 99 years old!  It will definitely be on the try-our-damnedest-to-do-every-year list.  No matter how beat down I get, I oughta be able to go 3 miles.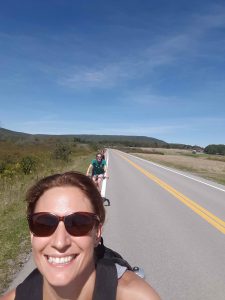 We celebrated with a glorious sunny jam at the Leaf Peepers Festival (bought some WV honey mead), a starlit hot tub at PJ's house, and a gorgeous bike ride around the valley the next day.   For a flicker of time, I forgot about the last months: the pain and injury, the hunger and the sleeplessness, my kitty's poor ear, and the sense that all my belongings are scattered across so many places (storage, my parents' house, my office, Woodley) that sometimes I can't recall where my toothbrush is.  For one day, out in the Valley, even the Donald didn't exist.