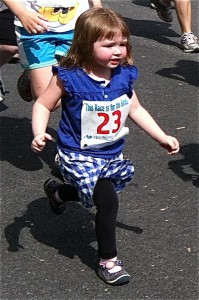 Run for the Birds
1-mile, 2-mile, 5-mile, and 7-mile options
Shepherdstown, WV
'Sean, you're running this?'  The incredulous volunteer apparently did not consider the 11th annual Shepherdstown Run for the Birds to be a race befitting the likes of the Great Sean Andrish.
I retorted that the Run for the Birds was the premier event of the spring, a claim that Aaron and Sean understood by the end of the day to not be the least hyperbolic.  RFB is a little gem of a race, with 5- and 8-mile trail race options that wind along the roads, fields, and woodlands of the US Fish & Wildlife Service conservation training grounds in Shepherdstown, WV.  It's a low-key family friendly affair, with a 2-mile fun run that my dad did, as well as a 1-mile kiddie run that Selena's three boys ran, following a lengthy warmup of calisthenics (see little Emmett demoing his killer yoga moves).
I was originally signed up for the 8-mile trail race, but I had been limping all week since the Boston Marathon, with a lot of pain in my IT band and the outside of my left knee.  I had found that skipping and cantering did not cause it pain, so I changed to the 5-mile race and was prepared to skip my way through the five miles if I had to.  Sean signed up for the 8-mile; the last time he could recall doing a short-distance race was 2005.  And Aaron was psyched to skip and prance the 5-mile version with me.
But I have curious legs.  They griped at the beginning of the race while I was running cautiously, but they got much happier as the pace picked up and by the last mile I my knee was pretty much pain-free.  Although poor Aaron was robbed of what was supposed to be an easy frolic through the fields and instead had to sprint through the woods with me.  I didn't want to run fast, but my knee demanded pace, so I complied.
The course is a series of different loops of small rolling hills along a road, then through fields that feel a lot like a XC course, and then along a wide dirt path that twists through the woods.  There is one big hill, that ends with unnecessary cruelty through some tall grass.  We always have an internal competition to see who can spot the most birds along the course.  No one else was looking so I won that.  I also won the 5-mile race, as did Aaron (we finished together 1-2), and Sean won the 8-mile handily, leading start to finish.  WUSsie domination.
While I love a lot of things about the RFB — the fun course, the low-key atmosphere, the good cause (Potomac Audubon Society), the 4 difference races to accommodate all ages and kinds of runners, the plethora of friendly volunteers — the perennial weakness of the race is the awards ceremony.  It takes them hours to compile the results — the race started and 9am and we didn't get out of there until noon, and awards were still being handed out when we left.  I guess it's part of the charm of the race.  The prizes are also pretty ghetto: a slip of paper for free entry to next year's RFB.  (Although I guess that's better than the Fire on the Mountain prize — Aaron and I actually ran into the FOTM RD at race registration, and he sheepishly admitted to still being 'backlogged'.  It's been 6 months, buddy.)  But I had 16 guests arriving at 1pm for a post-race birthday lobster party that I had done zero preparation for……
Except fortunately we had gone to Wegmans the night before (there is a Wegmans in Frederick, MD), and Wegmans has everything a girl could possibly want for a birthday party, including a frog piñata.  When my friends arrived I was still madly cooking and still in my sweating running clothes, but there wasn't much point showering when the day would be spent playing tennis, romping in the woods (we had to have the traditional Birthday Bug hunt — yes, that is exactly what it sounds like: here's your jar, go get your bugs!! — Leo won this year with a pretty awesome grasshopper), smacking the piñata, and cracking open and eating lobsters — which, at least the way I do it, is a pretty messy affair.
The weather held for us to enjoy our lobsters in the sun.  It was a rollicking good birthday.  Sean and Cori even cracked their own lobsters this year.  The kiddies were all good sports: Lily and Aidan even helped Sean pick out all the rubber bands out of the pounds of lobster shells so we could throw them in the compost out back.  In addition to what have become the lobster party regulars — Cecile, Bernard, Cori, Jess, Josh, Tany, Bing, and Sean — we had Selena and her family, Wladimir and Cynthia from Brazil, Cori's niece and nephew, my uncle Jon, and my boss Mark, who actually owns a property in Shepherdstown that with all his jetsetting he hasn't had a chance to visit yet.  But maybe after seeing the charms of this quiet riverside West Virginia countryside he'll go check it out some day.