I was witness to the great debate towards the end of dinner, after the Beer Mile, at Cactus Cantina: who beat who?  Martha or Joe?  A $100 wager was agreed upon. 
Then, by happenstance, I see this photo taken by RunningTwig: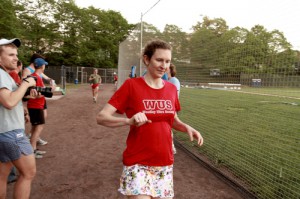 Is Martha finished with the race at this point?  She does not reach for a beer implying she has in fact finished, though I could be wrong.  If Martha is in fact finished at this point then who is that still running behind her?  Mr. Clapper.  That's who.  Could this be all the evidence that we need?  Or is video still necessary?  Bobby?