For all those who wonder why I run marathons, why I subject my poor little body to that murderous bludgeon of 26.2 paved miles, the answer is entirely contained in this photograph. The best thing about being female is that you can win the race and still have a big sweaty runner hug waiting for you at the finish line.  And today there was no one I was happier to see waiting for me at the finish than Andrew Webb.
~                      ~                      ~                      ~
The road to Charlottesville began back in September, on that fateful day when registration for the Boston Marathon 2011 closed in a record 8 hours, blocking out many of the Boston faithful who had run year in and year out, including the many members of our Nittany Valley Running Club (NVRC) team that raises money for the charity Centre Volunteers in Medicine (CVIM), which provides healthcare to uninsured working adults.  This debacle resulted in a new staggered registration process for Boston 2012 and 2013 that gives priority to runners with faster qualifying times.  In the meantime, our group reorganized and headed southbound to the Charlottesville Marathon, which was rumored to be a scenic course rolling through a charming city and surrounding horse farms, conveniently timed a week before Boston.
I have wanted to win a marathon for quite some time, and a small one like Charlottesville seemed like the perfect opportunity to do so.  All the previous female winning times were over 3 hours, and I've been 2:55 consistently.  However, due to some unconventional turns in my training regimen, with one week to go my legs were strongly messaging that finishing 26.2 miles at all was going to present a challenge.
As of early February, I looked poised to rock Charlottesville.  I had managed to train all winter, building up a mileage base and having a convincing win at the Uwharrie 20-mile trail race.  But the timing was all messed up: training-wise, I was ready to start tapering after Uwharrie, recovering and cutting back on miles, building up speed.  But I still had two months to go, so instead I squeezed in the Catawba run-around, slated for 35 miles (I planned to run ~20 miles and instead ran closer to 37-38 miles, see race report).  I crawled to the finish of Catawba battered up with a throbbing left butt.  I still wasn't fully recovered by the time I ran the DC National half marathon 3 weeks later, although the 1:22 was a heartening reminder that I could run through some soreness still at a decent clip.
Although I have made a tradition of running the classic Cherry Blossom 10 miler every April through the tidal basin's pink bloom, I vowed not to run it this year as it lay a mere week before the Charlottesville marathon.  But when Tom Cali said he was going to come down to run it and when my friend offered me a free bib, I was unable to resist.  I was still damn sore in the hamstrings and calves from National, so I vowed to run an easy 1:07/1:08 marathon-pacing run.  Ryan Lane, who has enough gear to measure something like heartbeats per meter, promised to pace me to exactly such a time.  Unfortunately, Ryan fell victim to the infamous Cherry Blossom port-o-potty line trap (there are additional port-o-potties available, they are just not in places where any reasonable person would expect them to be).  The backs of my legs felt painfully sore and tight every step of the way, and I ran sans expert pacer, but somehow I ran exactly 1:07:51, right on pace.  However, it required a gritty effort, and it was impossible to imagine that I would be able to keep that pace for another 16 miles in 6 days.
But I launched a quick two-pronged attack: on one hand, doing everything in my power to recover (massages, warm salt baths, major cutback in mileage, days off), and on the other mentally preparing for a worse-case scenario, identifying places on the marathon course where I could easily drop and contacting race directors of later spring marathons about obtaining a registration spot.
Fortunately, Kate Barron-Avilion is the most magical masseuse I have ever had.  I need to start seeing her every time I go to State College.  My visit to her on Tuesday was the turning point in my recovery, providing the first glimmer of hope that I had a prayer of finishing Charlottesville.  Meanwhile, Tom Cali ably covered the critical nutritional component of my recovery with a week of Lunchtimes with Tom Cali, filled with heaping sandwiches and burgers that made my tummy giddy.  Poor Tom lamented that I was going to make him gain 3 lbs during that week since we weren't running much for the taper.  I eased up and let him take Wednesday off from our lunch binge so he could go home and eat his diet fiber cereal lunch while I monster sandwiched.  Then again, Tom's biggest concern all week was getting his poop schedule on track for a murderously early 6:30am gun time.
Between the lunches, massages, light running, and negative response from the Vermont marathon RD (they are full, but at least he promised me an elite bib for next spring), I was beginning to see the Charlottesville marathon finish line at the end of the tunnel.  But Thursday threw I wrench into my recover plan when I found myself with ample reason to get hammered, for that afternoon I received news that my key paper that I've been working on for a year, Spatial dynamics of human-origin H1 influenza A virus in North American swine, was accepted to PLoS Pathogens.  To put this in a running perspective, getting published in PLoS would be like a girl running a 3:10 marathon – there are loads of people who do it, but at the same time loads of talented, hard-working people who don't.  Or maybe it's more like 3:05 — regardless, clearly the only proper response was ample beer and vodka (unfortunately in that order).
With less than 24 hours to race time, I woke up Friday morning with a splitting hangover headache.  I dragged myself out of bed at 8:05 and Tom picked me up at 8:15.  I managed to throw down some oatmeal, gather my belongings for work, and kind of get some clothes on. (Tom reports that my jeans were neither zipped nor buttoned and that I was holding my sneakers while walking through the rain in my socks.  Tom also reports that I sent him incoherent drunken messages the prior evening, the first of which was 'Walling').  But I got done what I needed to at work, with all my BEAST (Bayesian evolutionary analysis by sampling trees) jobs running, and got back to Kathy's house by 11:15 to do laundry and pack up and go.
When Tom and John Domico showed up in the Lincoln MKX, my clothes were predictably not nearly dry in the dryer.  But we managed to drape them around the car and head off with Kathy around 12:30.  Less than a minute into the trip I piped up, 'So when do you guys plan to feed me?'  Oh, boy was I in for a surprise – Done's Bones!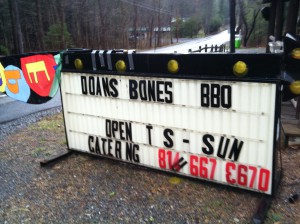 ~                      ~                      ~                      ~
Race day morning was vastly improved by having a straight-shot walk to the start, in contrast to Luna and I driving around Anacostia and Sean and I driving through the driving rain to Uwharrie.  There was some trickiness about finding bathrooms (John Domico is still riled about the lack of facilities impeding his timely race start and making him lose to Ken Davis).  I inherited from my mom a natural radar for quality toilets, and found Tom an excellent hidden bathroom across the street for his much-needed last minute poop (apparently all that effort from the past week to get on schedule was thrown by an early Thursday breakfast meeting with Joe Faulkner).  Tom repaid my services by expertly blazing a trail to the start of the pack, just feet behind the starting line.  I chatted with a woman next to me who had run the course many times previously.  When I told her that I planned on running 6:50 miles, she retorted sharply, Not on this course, honey.
From the first mile it was clear that this was going to be a relentlessly hilly course.  It was also clear that I had some female competition, although I couldn't tell whether they were half marathon or full marathon runners because the two races ran together (the RDs should take a tip from the National marathon and pin 'Half' on the back of the half marathoners).  It made me antsy to have girls blow by me – even if I didn't win the race I wanted to at least be in contention.  But Tom was a calming force beside me and we chatted and commented on the scenes we passed through – the cute little woodchip path that was much to our liking, the stately campus (What, did someone have a sale on columns?), the little stream on our left.  Leaving the downtown area, we had an out-and-back through some very nice countryside with beautiful estates where Tom was tempted to knock on the door to request mint juleps.
I calmed myself by convincing myself that the two girls ahead were half marathoners, information that was initially confirmed by one of the marathon marshals on bike (the helpful bike marshals almost made up for the race's many logistical shortcomings), much to my relief, but then later corrected to say that one of the girls was running the full marathon, much to my consternation.
As Tom and I trolled along, our teammate Andrew Webb caught up to us and ran with us.  We were immediately blown away by his massive new tattoo on his right arm, which he explained to us was Nadine's family crest from Japan, which he had acquired just a week ago in downtown State College to commemorate the first anniversary of her tragic death.  Andrew admitted that he was not the kind of person to get a giant tattoo, but I really can't imagine that a better reason exists for getting one.   Typically Tom and I are faster marathoners than Andrew, who hadn't yet broken 3 hours, but one look at that tattoo and Tom and I knew that we were Andrew's toast today, and he left us in no short order after the turn-around point at mile 7.
The turn-around was actually great fun because we had so many State College runners (12, to be precise) coming the other direction to wave and say hi to (or, like Thurley, jump over to our side for a big High Five).  In no short order we saw Mike Weyandt, Meira Minard, Ken Davis, John Domico, John Sheakoski, Kathy Simin, Hayley Weyhe, John Thurley, Jamie Volkert, Jaimie Wright, Anne Lehman, and Michelle Hutnik.  My did we look snazzy in our new blue singlets (!), which Tom had done a monster task of sorting the night before.  It was a bit discouraging that we had to run back up those giant hills we had just come down, but we were still having a pretty good time of it all.
Of the 1500 or so in the race, two-thirds were running the half-marathon, so the race thinned out tremendously after 13.1 miles.  The two girls had been so far ahead that they weren't even in sight, but I think the full girl must have suffered quite a set-back when the other girl finished halfway, because when she drifted into sight in between miles 14 and 15 she did not look to be moving very fast.  As soon as I spotted her at the crest of the hill my heart started pounding.  As Tom describes it, he was running full tilt to catch up with me after stopping at a water station but couldn't realize why I kept getting further away.  He didn't have his glasses on, but finally he discerned the shape of the female ahead of me and understood exactly what was going on.  According to him, I flew by her like she was standing still.  She actually muttered 'Okay, fine, just go ahead' as I passed her.  Like I needed permission.
I let myself put some distance on her ('gap' her, as Andrish puts it), wondering in the back of my mind if this little surge was going to seriously bite me in the end, especially on such a brutal hilly course.  But something had snapped when I saw the girl in front of me, something came unhinged, and I ran alone the rest of the race.  Well, except for the two motorcycle cops escorting me, as well as a really nice guy on a bike who offered me words of encouragement at multiple points and even gave me a gu packet (I found him after the race and gave him a big hug and told him to come to all my races~).  I saw Andrew a minute or so ahead of me, an image that was immensely satisfying — as competitive as I may be, I was absolutely thrilled to see Andrew running strong and well.  It was also soothingly familiar for me, as the distance between us was about the same as the distance at the end of Tussey MountainBack Discovery Series legs 8/9 as I followed Andrew to Colyer Lake during my first ever Tussey run back in September 2004, a fresh arrival in State College to start my PhD — I can remember that run so vividly.  I kept expecting Tom to catch up with me as he has often done before (I'll never forget when he told me to go on because he was absolutely Dying during the Nittany Valley half marathon, only for me to hear his scuttling little legs blow by me down Rock Road 3 miles later), but apparently Tom was content where he was.
I never hit the wall.  I've heard people tell me that they've run marathons without hitting the wall, but you never believe it's possible until you experience it yourself.  Not that my legs felt fresh as daisies — my left hip flexor was searing and I could feel my right leg doing most the work up the hills — just that my body didn't grind to that painfully slow trudge the way it normally does in the last couple miles in a marathon, as if every step is labored.  My legs actually felt far better than they had at the end of Uwharrie.  Joe said that when he cheered for me at mile 25 I was grinning ear to ear — then again he was whooping like a macaque in heat when I passed by, exuding such enthusiasm about my pending victory (the first of many fantastically uplifting fan responses in the last mile or so, including Jamie and Costas), how I could I not grin like the Cheshire?
There wasn't a single clock along the course, so even though it was a goal of mine to be the first woman to break 3 at Charlottesville, I didn't know that I was on pace for 2:57 until I saw the finish line clock.  It wasn't a PR, but I was thrilled with the time.  I found Andrew Webb and bear hugged him (see picture above).  Andrew had finished in 3rd, then 2 brothers finished after him, and then I finished 6th overall.  A couple guys finished and then Tom finished 10th.  Meira Minard, my teammate from State College and a first-time marathoner, came in a couple minutes after Tom for second place female in 3:02, both of us breaking the course record (3:03)!  State College runners kept pouring in – 6 of the top 20 were CVIM!  We cleaned up at the awards ceremony: Andrew 3rd male, Meira and I took 1 and 2 for the women, Tom won the 50s age group, Ken was 3rd in the 40s age groups, Hayley and Kathy took 1-2 in the 30s age group…..CVIM domination!  Hell, between Andrew, Meira, and me, CVIM took half the podium.
So here is my take on the Charlottesville Marathon.  First, I loved the course, hills and all: the pretty little section out in the country, the parts winding through the campus, the bike trail along the creek, it was highly varied and never monotonous, although some were bothered by the number of turns (personally I like them, more like trail running).  I liked the out-and-back because I got to see all my friends, and then during the two loops it was nice to get encouragement from all the runners I was passing who were still on their first loops.  The weather was perfect, cool and overcast.  The fans were sparse but cheerful and much appreciated, especially are the CVIM family members that came along.  I liked the women's race shirts they gave out (the men's color was not so good).
However, this marathon was run on a shoestring budget and it was pretty apparent in a number of ways.  I managed to find a bathroom at the start, never needed one during the race, and didn't care that I never got a single split time, but this definitely wasn't the case for everyone.  For me, the one logistical problem was that my surge coincided with getting a water cup at an aid station that only had about an inch of water in it.  This wouldn't have been a problem in marathons where water is given every mile or two, but the aid stations were pretty sparse along the course, seeming to come every 3 miles or so, less frequently than I was used to.  And that gu had made me darn thirsty.  Mentally, it was really hard seeing the mile markers for the second loop while we were running the first (ie, seeing miler marker 23 while we were on 17, a cruel reminder that we were going to be back at that point in 6 miles and feeling much worse….).  My other minor disappointment was that there was no ribbon for me to break at the finish line.  Yeah, I know I'm romantic, but I've always imagined my first marathon victory to involve breaking the tape.  It was also pretty brutal that the balloon arch was about 20 feet from the final timing mat, so you had to keep trudging on uphill after going through the balloons – might not sound like a big deal, but at that point every step is torture.  The stretch to the finish was confusing for everyone and I even went off course a bit there and had to double back.  The awards were really meager, especially with Miller Lite as a sponsor (after the free beer garden at the National half that Luna and I enjoyed, we were astonished to be charged $5 for our beers at the Miller Lite marathon).  We thought we'd get some decent stuff as prizes but they were pretty shoddy (I got a pair of free shoes for winning — well, really they just told me I could take a box of one of the left-over shoes they were trying to sell…..).  Other complaints included no time mats (Jamie pointed out that it would be bloody easy to cheat in a course with turnarounds and loops), crappy post-race pizza (although I'm sure Andrish would love it), and one of the worst post-race bands we've ever heard (we fantasized about pulling a John Belushi from Animal House smashing the 'I gave my love a cherry' guitar).
Personally, my biggest gripe was with Charlottesville's The Daily Progress Newspaper, which devoted 5 full paragraphs of text to the male winner of the marathon, 2 paragraphs to the 2nd place guy (and bloody boring paragraphs at that – heck, the winner was only like 10 minutes faster than I (2:46)), and a lone sentence to the female winner, even botching my hometown (listed as Washington, PA – some amalgamation of Washington, DC and State College, PA — I guess kind of true, actually) because they didn't even bother to interview me.  And nothing about Meira, the second place woman.  Well, I guess that's Virginia for you, right Sean?
The great part of not bonking is that I didn't have to go to the medical tent afterward, first time since 2008.  I think the ultra running is actually helping a lot in this regard, teaching me how to eat, drink, and run.  I didn't feel nauseated towards the end, I ate all my cliff blocks, and even walked at the aid stations to take both water and gatorade, kind of treating it like an ultra.  My stomach wasn't perfect at the end, but I was able to down my whole plate of eggs, sausage, hash browns, and toast afterward.  My stomach finally objected at 11:30pm that night when I had subjected it to nachos, tacos, beer, and vodka and then made it dance to 80s music, but really who can blame it?