Aug 1-7, 2011
Beijing, China
There was blood…..
Sweat…..
Smog…..
And random Chinese kids continually wanting us (and Very Exciting Token Black Guy) to stop and pose for pictures with them……
Even the fearless Chinese military was feeling the heat.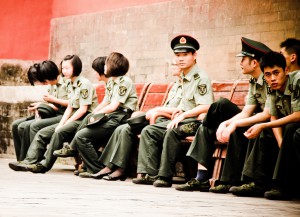 But we had a fearless leader ourselves.  Equipped with a little red flag for us to easily follow like sheep.
And we had fuel!
And duck heads…….
And beer! (once the bartender cleared away the dead fish heads…..)
And places to go and things to see…..
And Team Fogarty was determined to reach elevations of the Great Wall where the crowds and eye-poking umbrellas would be thinned out…..
And so we did.
**In all seriousness, Beijing is the least conducive city to physical exertion that I have ever come across.  I would rather jump on a treadmill than brave the smog, crowds, and sewage smells.  I would take DC's hottest summer day at noon over this, with Ed C. as my running partner (although I'd keep a fair enough distance to duck any incoming slobber).  Hell, I might even take Hellgate over Beijing.  I have been in Beijing a week and not even been tempted to lace up.  This is coming from the girl who took a taxi in Bangkok to a park so she could run loops around the tai chi-ers and ran by packs of growling gypsy dogs in Italy — I'm not easier deterred.  But I don't even like making the 5-minute walk from my hotel to the conference center.
Not that I haven't been enjoying Beijing.  The city certainly has its charms — like really, really cheap cab fares.  And I got to see my little cousin Claire, who's been living here 5 years (but moving to London in 6 weeks).  Claire scored big points by taking me, Andrew, and Eddie to a restaurant that served good pizza with prosciutto and no knuckly bits.  'Knuckly bits' has been the theme word for the trip.  It all started when Andrew Rambaut, whose adventurous palate had included sea cucumber ('slimy and tasteless'), jelly fish ('might have been a gelatinous fungi'), and turtle soup (covering quite a range of phylum diversity there), shoved the remaining brown morsels to the side of his plate in disgust.  When I asked him if they weren't good, he replied that they were okay 'until you hit the knuckly bits.'  Andrew is from Edinburgh, so you have to say knuckly bits with a good thick accent to truly imagine the scene.  I was so delighted by the phrase that I challenged the table to incorporate 'knuckly bits' into the next day's presentation at the International Forum on Respiratory Viruses (Andrew and I both managed to — we'd love to know what the simultaneous Chinese translators did with that one).