Fire on the Mountain 50k
Flintstone, MD
November 6, 2011
http://www.phdispatch.com/FOTM_2011_results.html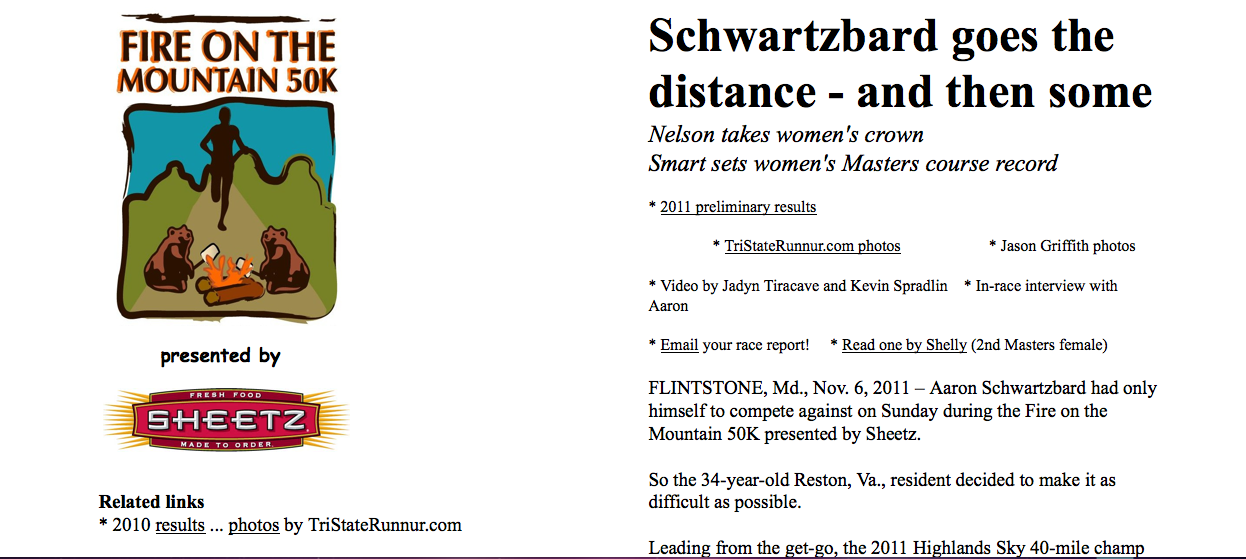 WUS represent!  All 3 wussies (Aaron Schwartzbard, Martha Nelson, Selena Smart) make the post-race headline.
A race sponsored by SHEETZ!  How could a wussie pass up??  They had Sheetz shirts, Sheetz bags, they even had a little Sheetz truck at the finish line serving free Sheetz smoothies, coffees, hot chocolate, and other goodies.  Where the heck was Andrish??  Honestly, Seanie would have LOVED this course and this race.  The terrain was rocky and full of deep stream crossings (the race director said he stopped counting them after 30 or so).  It's not trivial to negotiate those rocks in completely numb feet (continually re-numbed by the icy waters), and Selena and I both have black toenails to show for — not so much fun to kick rocks with numb toes.  (For those who don't know, Selena Smart is my former high school track & XC coach who is now a mother of 3 crazy boys in Van Ness but is still running and technically a wussie, having done a WUS with Keith, Dave Rees, and myself back one summer eve.  Back in the day I thought Selena was a tyrant bent on destroying teenage runnergirls)
This race was all Selena's idea.  She emailed me that she was doing this race about a month or so ago.  I was torn because it was scheduled for the same day as Marine Corps Marathon and I had planned to be happy, cheery race support for Aaron and spend the day with his parents, who live 1/2 a block from the MCM course in Arlington.  But given that Selena and I weren't running MountainBack together (Selena had to back out when the race was moved this year from Sat to Sun) and I wasn't running any other races this fall, I decided to join in.
But the day before the race the course got hit with 6-8″ of snow and had to be canceled because the school buses couldn't navigate the mountain roads in the snow (FOTM is a point-to-point).  So it was delayed one week and I got to watch AarBear run his Marine Corps Marathon AND make him come run FOTM with Selena and myself.  Double score!
The plan was to drive Selena's 3 boys and dog to her parents' farm outside Winchester, dispose of them, have some homecooked dinner, and then have a peaceful pre-race night sleep at America's Best Value Inn in Hancock, MD.  So we all piled into Selena's minivan: Selena, Aaron, 3 hyper boys, a Belgian Malinois with bad breath, and myself.
The Smart family homestead was a dream home, situated ~20 southeast of Winchester near the Shenandoah River and Appalachian Trail, 80 acres of rolling farmland with cattle, horses, and three buildings constructed by Mr. Smart himself: the main house, the garage (with apartment above), and a barn that was so sparkling I'm convinced Andrish would try to secure himself a stall of his own if he could.  I, of course, was obsessed with the horses.  Aaron and I have an open invitation to return some day to stay in the apartment over the garage and ride horses and hang out.  We will be taking the Smarts up on that offer.
We had a big meal of chicken & dumplings (we found some mac 'n' cheese in the cupboard for Aaron) and made our way to America's Best Value Inn, which was not America's Best Quality Inn.  We had a choice: we could get woken up by the heater when it kicked into gear every 20 minutes or so.  Or we could turn the heater off and freeze.  We opted for the latter, piling all the blankets on from the second bed (apparently Selena did the same).  After a sporadic sleep the kicker was when our 5am wakeup call came at 4am because they neglected to account for the end of Daylight's Savings time.  For breakfast we introduced Selena to the glory of Sheetz, providing edible foods and beverages in a town that otherwise had…..nothing.
The race was great fun, a beautiful course, surprisingly technical, a good mix of terrains, friendly and low-key.  Nothing beats a crisp fall day with blue sky and sun.  I had a lot of concerns coming into the race: (1) my hamstring was still griping about that poor decision to stand on the sidelines at Marine Corps, freeze to the bone, and then jump in with Aaron at 6-minute pace for a few miles (hence my wearing the butt-ugly spandex); (2) I had taken a bad spill at WUS that week and had badly bruised up my right knee and hip and it still was bothering me; (3) and of course my plantar fasciitis was still acting up that had plagued me since Cascade Crest.  Fortunately, none of concerns 1-3 was much of a problem on race day.  Instead, my gastrointestinal system flared up.
I'm not going to go into detail on my gastrointestinal adventures.  As I've said many a time before, this is an area I'm going to have to figure out before I can become an ultra runner.  I can get away with it for the shorter races you don't have to eat during but 5+ hours does me in.  But it says a heckuva lot about this race how much I enjoyed it despite the stomach ails.  It was a really fun course, never a dull moment.  Aaron almost fell off a cliff into the creek; the guy running behind me fell every 10 minutes or so; Selena was not so into the technicality of the trail; I smashed my foot up and my leg looks like an army of rabid cats got to it.  Good times!
I can't resist including this photo.  I'm not sure what I'm doing at this moment, but I've discovered that Aaron is the most photogenic runner and I am the least: