First Inaugural WUS Donut Run
Thursday, April 21, 2011
Participants: Kirsten Corris, Tom Corris, Anna Griffis, Neal Gorman, Jonathan Loewus-Deitch, Justine Morrison, Doug Sullivan, Brittany Zale
Volunteers: Sean Andrish, Gaby Duran-Gorman, Cecily Garber, Bobby Gill, Brian Greeley, Keith Knipling, Martha Nelson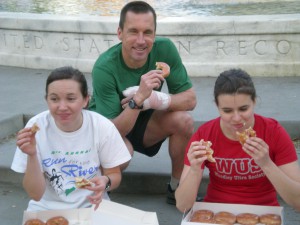 On April 21, 2011, a small but fierce WUS contingent consumed ~72 Krispy Kreme donuts by the Dupont Circle fountain over the course of a (slightly long) 10k out-and-back through Dumbarton Oaks. Brittany, Anna, and John accounted for half of the donut consumption themselves, with 12 apiece, with Brittany and Anna completing the straight-shot 5k course up and down Connecticut Avenue. Neal won the overall race so handedly that he threw down an extra two donuts just for good measure, for a total of 8. Other true (6-donut) finishers included Doug and Colin, Neal's brother in law. Astonishingly, there was no puking.  Much was learned about donut-eating over the course of the event: many favored the smushed donut approach (although Doug's 6-donuts-smushed-together strategy may have backfired – a maximum of 2 at a time is probably preferable); Brittany discovered that the standing up approach is preferable to sitting, which squashes the already strained organs together; and Tom and Kirsten fared exceptionally well with the screw-the-donuts-let's-get-sushi approach.
It would have been nice to have seen Neal get some real competition. But John was fresh off a 100k victory on the West Coast (we will neglect mentioning the denominator of the competition) and was still recovering; Sean broke his thumb at his Zane Grey 50 in Arizona and was indisposed (a blog on his remarkable 5th place finish is forthcoming, but delayed by the said non-functional thumb); and Greeley has still not solved his knee problem, much to his ire.  However, despite these set-backs, John was the only one to eat 12 donuts and run the whole 10k, and deserves some kind of prize for that (we're not sure exactly what kind of 'other way to reward him' Martha was offering to those she thought deserving of additional prizes during the awards ceremony, but there will likely be much stiffer competition at next year's men's race on account of it).
Despite the best distracting efforts of a pair of baby raccoons Martha found outside her office that afternoon,  the race went relatively logistically smoothly, due to ample help from the volunteers: in particular, Gaby at the start, Bobby and Keith with the cameras (more pictures available here (Bobby's) and here (Keith's), Neal's awards procurement, and to Sean for carrying all of Cecily's and my stuff (with his indisposed thumb, and answering my cell phone…) while we sprinted to Dupont Circle to procure the donuts just ahead of the first runners. May I add that Greeley made a great water boy, too. Despite the arduous efforts of Sean, Cecily, and I to chalk-mark the entire course (note that Cecily saved the day by very ably diffusing any potential Sean-Martha showdown over Sean's insistence that my course markings were a) too small, b) too infrequent, and c) indicating that runners should climb trees), Colin ended up on Mass Ave, but eventually found his own way home, which is all that really matters. Keith and Bobby crossed signals and Keith spent much of the race lingering outside the Krispy Kreme (although Bobby may have done that on purpose to keep those zebra prints out of his carefully chromatically arranged shots).
These gutsy (literally) performances bode well for next week's Beer Mile. Apparently Wussies have stomachs of steel (see those pictures of Brittany's donut-made six-pack).  Following a smashing victory in 49:04 that included a stop at Krispy Kreme, 2 extra donuts, and a scratch in the woods, Neal is poised as the guy to beat on the men's side.  Brittany and Anna made it back up Connecticut with no puking (we checked) and will be the gastrointestinal systems to beat on the women's side. But many new challengers will be making an entrance, and I'm afraid this time there will be no option to run less, consume more, Ms Zale.