October 13, 2012
Baltimore, MD
I had decided to run the Baltimore Marathon several months ago when I was riding a train to Baltimore to meet with some colleagues at Johns Hopkins University School of Public Health with whom I had been collaborating on a study of HIV community transmission dynamics.  Aaron and I had become obsessed with HBO's The Wire series, set in Baltimore, and when I realized that there was a big purse for Maryland residents, I shot the elite athlete coordinator an email to find out if I could qualify (a) as an elite and (b) as a Maryland resident (I work in Maryland, my parents live in Maryland, I consider myself a Marylander through and through).  Given the affirmative by the RD, I decided to make Baltimore my fall marathon.
A week before the Baltimore Marathon I was confident I was going to PR, finally breaking that 2:55 I'd run three times.  I'd been running really well all fall, with wins at the Women's Half, the Dam Half, and even setting a 5k PR the week before the marathon in 17:34 at Ellen's Run.  I was even running up hills comfortably.
But when I WUSsed on Tuesday night my right hamstring was tweaked badly and my Wednesday run with Sean devolved into a skip, with every step hurting at a run.  I took Thursday and Friday off and was feeling better, but I knew that if I had any prayer of running the marathon on Saturday I was going to have to start slowly and deliberately, easing into the race and seeing how things went.  But in the days leading up to the marathon I was realizing that I wasn't really in the right frame of mind to pull off a great marathon.  I run best when I'm in a cut-loose frame of mind, relaxed, and carefree about life, and I've been really angsty lately, for several reasons.  I know that our savant Sarah Stanley claims that life is full of rocks and that's why we run: to learn how to step over the rocks.  But I kind of work in reverse: if I can get all those damn life rocks out of the way, my legs will do their little running thing just fine.  But learning how to run the rocks doesn't do jack for getting the bills paid and the viral evolutionary patterns inferred and the papers published.  Right now the biggest stresser is that my adored PhD adviser, Eddie Holmes, just left Penn State for Sydney, Australia.  Eddie is universally acknowledged and the world's foremost expert on viral evolution, and he has been indispensable as an adviser and key collaborator of mine.  Even after leaving Penn State for Washington I've continued to make 5-6 visits every year to Penn State to pick Eddie's brain on the projects I'm working on and discuss methods and approaches.  I always came away from those trips clear-headed, with issues resolved, and re-invigorated to dive into my work.  Without him, the quality my research will inevitably suffer — the question is whether it just drops a notch or two or whether it will implode.  On top of Eddie leaving, Penn State has always been second family to me, so not only have I lost Eddie, but my whole Penn State running family (see post on The Last Noontime Run).  The second big stresser has been the Federal government's uncertain funding situation and the horrible deadlock in Congress, which has left my division at NIH with tenuous funding for the future, which has not only precluded any chance of my visiting Eddie in Australia but leaves my entire future at the NIH in question and has prompted me to begrudgingly send our resumes for faculty jobs.  Even though it's just an application with no obligation, entertaining the idea of taking on a tenure-track position in biology makes me kind of start to hyper-ventilate.  I love my life the way it is, with a generally healthy balance between work and running and life, and I'm kind of terrified of upsetting that balance.  Especially if I'm going to have a family some day — I mean, seriously, I think that trying to balance tenure-track, running, and family would send me into a tailspin.  But I know I tend to over-think these things and am aware that I just need to go with the flow.
On top of these two big stressers they've demolished the nature preserve across the street from my apartment and are building two McMansions on the site, requiring jackhammering beginning at 7am every morning.  I explicitly selected my apartment on a quiet residential street of DC precisely because I'm very sensitive to outside noise and surroundings, and the endless jackhammering along is enough to drive me nutters.  And there's just been a lot of little stressers as well — it turns out HIV is way harder to analyze than influenza due to the nature of its evolution, and that project has driven me mad.  Most of my research lately has been on influenza in pigs (see Pigland post) and the people I work with at USDA just hired a new postdoc who will mainly supplant me of my privileged position as their main analyst of their data.  I was hoping the new postdoc guy would be really dumb, but he's actually really sharp.  So I've lost my key data source, my most important research collaborator, my extended Penn State family, and financial security at my present job (not that they would fire me, just that we might not have funds for me to travel and have the resources to do interesting things).  And my apartment has turned from a haven of peace to a place of blasting noise and diesel fumes.  If Aaron weren't around to zen me down on a daily basis, I would definitely have lost my little mind by now.
Anyway, back to the race.  So Aaron and I woke up at 5:15am to make sure we got to the marathon with plenty of time to run an easy mile or so to loosen up our injuries — my hamstring and his Achilles — which would not take kindly to jumping into a quick pace in 40-degree temperatures.  We were making perfect time, and arrived at the exit for Camden Yards at 7:15, plenty of time to park and get a little jog in before the 8am gun time.  But the exit was backed up all the way onto the highway, and it took us an hour to get to the parking lots, which were all filled so we had to find street parking.  It was kind of out of a Groucho Marx film, with all these cars circling around crazily looking for parking spots.  The kicker was when we got stuck at the train tracks to let a long train pass through.
At that point we looked at the clock, looked at each other, and decided that this would just have to be a marathon fun run.  I'd have to kiss that Maryland resident purse goodbye.  ($800 for first, $500 for 2nd, $300 for 3rd).  A few times Aaron tried to get me to jump out of the car and dash for the line, but (a) I didn't know where the race start was and we were still miles away, (b) I didn't want to abandon Aaron, and (c) the worst thing I could imagine for my hamstring was a full-on sprint to the start.  How Raven Stadium, which regularly handles crowds of 40,000+ people and after so many years of holding this race, was completely overwhelmed by the marathon crowds remains a mystery.
By the time we got to the starting line it was 35 minutes after gun time and the crew was already disassembling the chip mat.  So we wouldn't get a chip time, but we trotted on through the empty streets for what would become a long glorified training run.   Those opening miles were wonderfully peaceful and quiet, and there was a certain thrill to Aaron and I running through what already seemed like a marathon ghost town.  With no one else on the course, Aaron and I were heaped with attention from the remaining spectators and the bored traffic cops, whom we got to joke around with.  Of course, nothing could top miles 4-5 through the Maryland Zoo, where zookeepers lined the course with a variety of avian friends — a raven, an Eastern screech owl, a kookaburra, and a PENGUIN!  Aaron and I were glad we'd forgotten to carry our camera because we would have been delayed 20 minutes just taking pictures with the penguin.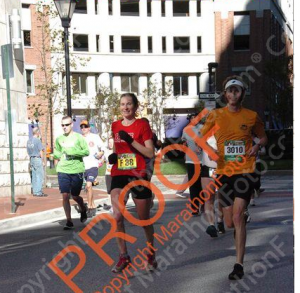 Around mile 7 we caught the marathon masses and had to start what would become a long day of weaving through the crowds.  The course was really enjoyable: in addition to the highlight run through the zoo, there was a nice loop around Lake Montebello, lots of cool neighborhoods, a pass by the Inner Harbor, and a fabulous finish at Camden Yards.  But my hamstring was bothering me a lot, and I began to realize that missing the start may have been for the best.  I really had to keep my stride short and couldn't fully extend, especially down the hills, and every stride hurt.  And all the weaving and dodging made my perennially injured left IT band flare up, so suddenly I was limping on both sides.  Aaron's left Achilles started to really hurt from all the start-and-stop and lateral motion from the crowds, so he couldn't push off with that foot, and we had to slow down the last miles.  But the fact that Aaron and I enjoyed ourselves despite all the weaving (which got really bad when the half marathoners merged with us around mile 17) and pretty painful injuries is a testament to how sweet the course and day were.
Aaron and I hightailed it out of there after finishing — we were fed up with being swarmed with crowds and just wanted some air.  We had a victory lunch at Wegman's in Columbia, MD, where folks were treated to the scene of a sore marathoner with a killer IT trying to make her version of a slow-motion hobbling mad dash for the Restroom that was up a flight of stairs and all the way in the back (I forgot to bring my magic papaya and had some bad stomach problems).
To pour a little acid on the wound, the top female Maryland resident finished in 3:06.  I could have won $800!  (Even with all the weaving (several times I had to stop dead because there was no where to do), the poop I took at mile 22 (and beer at mile 23) our fun run came in at 3:10).  That would have bought me and Aaron a lot of ice cream.  But can't complain, it was overall a well-organized race  — with Under Armor as the sponsor the race shirts were the best, and even the finisher medals had cute Maryland crabbies on them.  And the elite coordinator Clay Shaw told us if we come back next year he will hook us up with a room.