For a year or so now, McConnellsburg, PA, has been the official Drop-off Point halfway between DC and State College, PA, where some kind DCer drops me off and some kind Penn Stater (generally my dearest friend and connoisseur of fine automobiles Tom Cali) picks me up as I transport myself between work gigs in DC and Penn State, where I still work closely with my old dissertation adviser — and run at noontime with the Nittany Valley Running Club.  So when I discovered that there was a race being organized in this exact location on the exact Memorial Day weekend when I needed to transport myself from State College to DC, I figured it was a no-brainer.  I arranged with Tom that after we ran the Black Moshanon 10k, one of our favorite 10k events that winds up and through the forest outside State College, so that he could claim his 7th straight Harry Lyons award for top finisher over 50 (Tom is 56), he would drive me to Cowan Gap Park outside McConnellsburg, where I would pitch a tent, run the 50k on Sunday morning, and catch a ride back to DC with a fellow VHTRCer.  Easy peasy.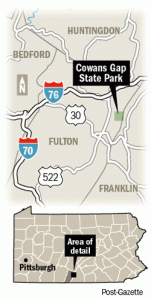 First, I couldn't reserve a campsite — they were all booked for Memorial Day weekend.  Fortunately a kind fellow named Rick said I could pitch my tent on his site.  There was some mentioning via email that I could share a tent or sleep in his car, but believe me, I would find room to pitch my tent even if it was in a tree.
And Saturday morning I ditched my plan of running Black Mo easy.  I couldn't help it — in these beautiful woods on this lovely day I was not going to cede victory to a 23-year old girl wearing headphones who dashed to the front.  And then it was way too tempting to catch up with Tom and run the whole race with him, stride for stride, enjoying the woods and crossing the finish line together, tying for 3rd, averting any problems with over-eager finish line midgets, and securing the coveted Harry Lyons award and overall 1st woman.
Tom and I had a beautiful drive through the forest and country roads to Cowans Gap and were able to find the VHTRC group at Pavilion 4.  Confident that I could no doubt outrun Rick if necessary, Tom dropped me and my boatload of stuff off and left me to listen to 3 hours of stories about what a nightmare course tomorrow was going to be.  Examples included:
You have to climb as if you're trying to fall on your face.  Otherwise, you'll fall backwards down the hill.
When we showed the rangers the course we had planned, they couldn't fathom that it was for humans.
Since it was on the heels of MMT (or maybe because the course is psycho), no WUSsies were signed up on the entrants list (although Sean insists he would have run if it weren't for his brain surgery).  I was also kind of worried about my ride home from someone named 'Marina', who offered to take me as far as the 'Reston/Herndon bus terminal'.  Me, a week's worth of work and running clothes, my tent, sleeping bag, sleeping mat.  Right.  Fortunately, always my Savior, Keith announced at the last minute that he was going to come up to run.  I couldn't convince him to come up that night to protect me from Rick's tent, but at least he would make sure I got out of the run alive.
I ran with Keith and a new person named Ryan Henry (well, new for me; I'm sure in Ryan's eyes I was the new person).  Ryan was there to witness perhaps one of the rarest phenomenon in ultra running: the act of without-breaking-a-stride-finding-four-4-leaf-clovers.  I was running with Ryan when suddenly I announced Stop.  Wait.  I trotted back a bit down the trail, plucked my clovers, and delivered them to Alisa & co at the first aid station.  It was such an ordeal to carry two water bottles and my clovers that I decided I'd had it and dropped a water bottle at the aid station.  Alisa said she'd bring it to the 1/2 way mark at the pavilion but we missed her and unfortunately that water bottle also had all my salt tabs.
But no matter, the course was awesome and we decided at the halfway mark to go out for another loop.  The climbs had not been exaggerated.  Not only that, but there were quite a few more of them than Keith and I had envisioned, including a nasty little extra one tacked on at the end.  But at least I saw porcupine!  And a turtle, and a black rat snake, and a red newt….  I have to say, abandoning my water bottle would have been disastrous had Keith not been available for extra water and salt.  Even still, I was severely dehydrated and never peed during the run or for several hours later (not until Keith and I were conveniently on rt 270).
All in all, many, many thanks to Alisa, Sue, and all the volunteers.  The course was well supplied and marked (except one little section where a ribbon was missing and I went off course a ways).  I hope to be back next year!