Uwharrie Mountain Run
8-, 20-, and 40-mile races
Ophir, North Carolina
February 4-6, 2011
Team WUS:
Andrish S (Inov-8), Colenso R, Greeley B, Mason M, Nelson M, Zale B
Introduction (Nelson)
I have been running consistently with Sean Andrish for 2.5 years, but we had never run a race together.  Now Brian Greeley and Brittany Zale, and perhaps Rob Colenso or even Mike Mason, have a good notion why.  But if there was a race to make us bury our differences in opinion over everything from the edibility of Taco Bell beef burritos to the definition of 'early', it is definitely the Uwharrie Mountain Run in Ophir, North Carolina.  Sure there were some pre-race issues.  At the pre-race dinner I discovered that my name was absent from the entrants list and there was a distinct possibility that I would not be allowed to race at all, a nightmare prospect that I vanquished only with healthy amounts of Yellowtail shiraz. Then there was torrential freezing rain the morning of the race, flooding all the stream crossings with icy waters.  But as soon as I hit my first rocky descent to bomb down, carefully skirting around the racers below me, everything was expelled but pure appreciation for the misty forest, for the race directors graciously allowing me to run, and even for good ole Andrish for waking me up that November morning and insisting that I register against my better instincts, and then spending three months quelling my self-doubts about my ability to race against goddess Olympians, or even just make it up the climbs.
To give credit where it is due, I do think Sean and I would have killed each other during the car ride down if we hadn't brought along the 'kids', two fresh-faced newbies who were both nominated as our club's Rookies of the Year.  Brian has the voice of a stoner and is mellow enough to calm Paulie Shore during labor.  Brittany, a former cheerleader, is the cutest thing alive and has enough positive energy and enthusiasm to defuse even my washed-up old lady cynicism.  Brittany almost didn't come because of an IT band that never quite recovered from Grindstone, a grandmother with a recent stroke, and a first chance visit with her boyfriend's parents, but ultimately she succumbed to Uwharrie's irresistible gravitational pull – or maybe just to my desperate pleas not to be left with the boys who were secretly plotting to subject me to their post-race skank for 6 hours rather than showering and partaking in the delights of Asheboro, which Keith Knipling recalls as a saloon called 'Riders in the Country'.
Now I'm not a very detail-oriented person – hence my propensity to botch registration forms, toe the starting line as the absolute least prepared runner – I would have froze Andrish by convincing him that he would have access to the car right after he finished his race, but fortunately we were saved by the world's most heated tent (I will return to Uwharrie, if only for the post-race tent sauna).  So I'll leave the details of our trip and the race to our other five very capable scribes.  I only have a few thanks I have to make before I'll let everyone else have a go:
1.    To Allison Bryant, for graciously giving me her place in the race – I hope her hamstring heals up quick.  But hey, at least I kept her Mountain Cup competition from winning and racking up points!
2.    To the Race Directors, for dealing with the totally strung out, hyperventilating Princess at a time when they had their hands more than full with race night preparations.
3.    To the staff at the Hampton Inn, for providing our room with so many spare cots we had to store one in the bathroom (see Brittany brushing her teeth above), for letting me go in the hot tub without a bathing suit (no, no, I had on a sports bra and running shorts….), for their excellent directions to the classic Blue Mist diner, and for their awesome waffle station breakfast buffet.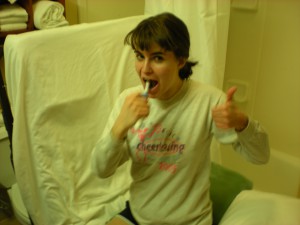 4.    To Dwayne Patterson, the guy in the fluorescent green, who ran with me for much of the race, listened to my chatter, and even showed me how to dash across the stream crossings without breaking stride, a totally novel concept for me.
5.    To Michael Mahan, the rockstar potter who made the lovely vessel that was given to me at the finish, far and away my favorite finishing award ever.
6.    To the white-haired lady working at the Arby's who prudently advised Brian to take a bag for his curly fries after he initially declined, after hearing my lip about what I'd do to him if he greased up my car.
7.    To the waitress at the Blue Mist who gracefully handled my assertion that there would not be real cherries in the cherry pie.
8.    To Brittany, for offering to carry the used hammer gel I was toting along during my race, which cracked me up for the remaining six or so miles, greatly mitigating the pain.
9.    To Rob Colenso, for graciously letting me and my three other WUS teammates brazenly crash his Hampton Inn suite with such good nature, even after we ditched him at the finish to hit the Blue Mist and neglected to leave even a proper cell number.
10.    To Sean and Brian, for cuddling so cutely together in bed (see below).  There is no sweeter bedtime lullaby than the sound of Brian asking Sean if he has enough sheet.
Race Report II (Colenso)
Race Report III (Greeley)
What do you get when you stuff a car with a self-proclaimed princess, a Sheetz junky, a 5'2 bubbly ex cheerleader, and a bearded dude with a doughnut addiction?  One helluva good time.  This is an account of our three-day journey down to North Carolina for the 20th annual Uwharrie Mountain Run.
Our pilgrimage began at the crack of dawn (10:30am) a day before the race.  We departed the legendary WUS household in Martha's Volvo, a.k.a. "the tank".  The road-traveled south included various detours that stretched the legs and distended the stomach.  Legs thanked us as we rummaged around rainy parking lots and grassy fields littered with abandoned left boots and other unmentionables for geocaches (see below).  In case you didn't know, geocaching is the grown-up equivalent to an Easter egg hunt, but instead of finding festive plastic eggs stuffed with tasty candies, one discovers hide-a-keys, or used film canisters containing neatly folded up paper strips (documentation one had been there) nestled inside a plastic bag.   We bagged a couple of "quick" ones and continued south.
With the help of George Carlin, Neil Young and some "would you rather" questions, we arrived in Asheboro, North Carolina nine hours later.  It was there that we met Rob C, a great addition to our WUS group of misfits.   Now five strong, we crammed back into "the tank" and headed to the packet pick up.
Packet Pick up, an essential yet seemingly trivial task, was almost the Achilles heel for team WUS.  As it turned out, Martha was not on their registered runner list.  Not only that, but she [Martha] had no records of ever signing up, though she had. Unable to produce any sort of evidence that she had registered (who keeps those registration confirmations anyways?), it was looking grim.  As tempers flared and emotions ran high, we were offered a much needed pasta dinner, complete with wine and cherry pie.  In the end, sympathetic to the situation, multiple people came through and Martha was able to officially run instead of being forced to bandit the race (I kid, I kid).
Like anyone else, us WUS folk relish a good night's sleep, and what better way to sleep than the locals: two to a small full size bed…..or four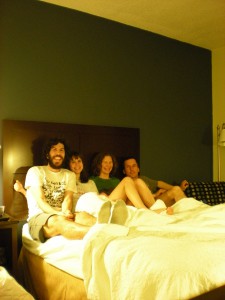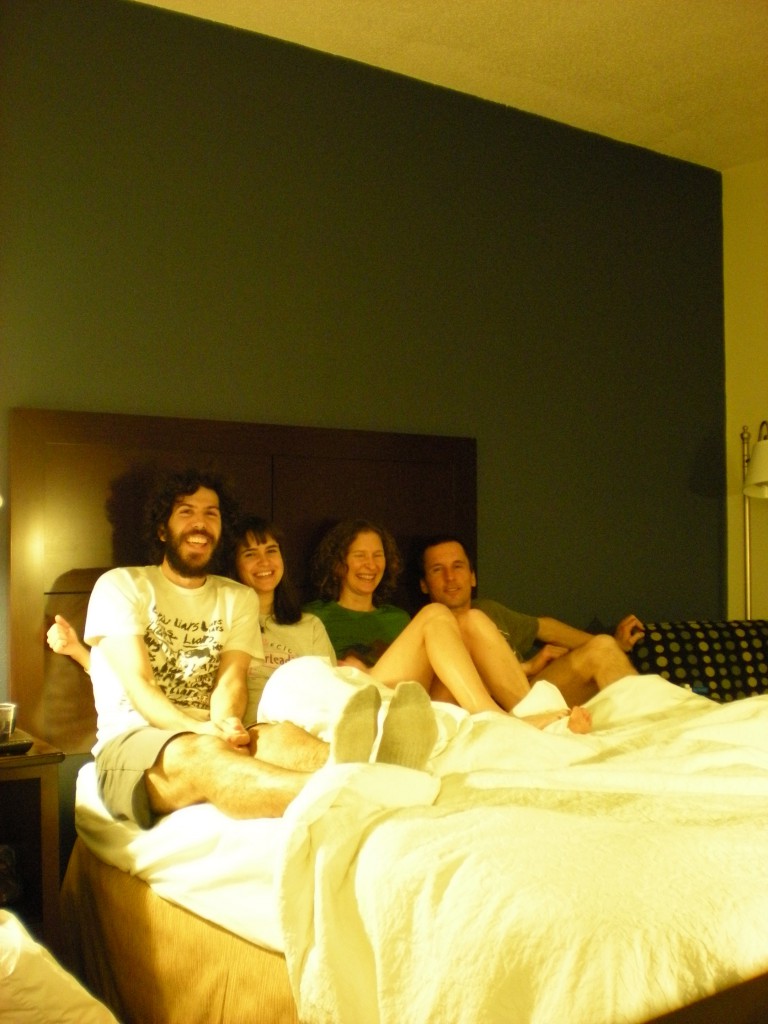 Brittany, Rob, and myself—the ultra-runners at this event—woke up in the wee hours of the morning and drove to our shuttle pick-up destinations, a fairly small church nestled off backcountry roads.  It was here—not even in the mountainous region of North Carolina—could I escape the seductive grip of Krispy Kreme, which beckoned me, and ultimately forced me to consume it's delicious goodness.   Soon thereafter, we jumped into the shuttle and in two shakes of a lamb's tail we arrived at the start.  Inauspicious weather welcomed us in the form of thunder, lightening, and a steady downpour of near freezing rain.   Great joys!  Looking like tired sheep, everyone congregated underneath the tents seeking shelter.  Donning garbage bags, we hesitantly walked to the starting line to toe off for the race, and on a lark I decided to start with the top ten runners.   The run was ideal, with less than 50 feet of road, undulating single track, multiple feet numbing river crossings, and bountiful aid stations.  The trail felt "sticky" and really complimented the way I like to run—in short bursts.  Although rainy leaves carpeted the trail, making a nice brown and burnt orange path, which lead the runners through some great forests with beautiful scenery.  The aid stations were well staffed and frequent.  An aid station early on even offered homemade cookies! "Baked fresh this morning", one volunteer boasted.    How am I supposed to turn down a homemade cookie?  I certainly didn't wish to offend anyone.   Besides, that Krispy Kreme was getting lonely I reckon'ed, so down she went.   Minutes later my lip and the inside of my mouth itched like no tomorrow.  I threw back plenty of water thinking I could flush the vile nut toxin out of my body and closely monitored the situation.  With the heart nudging whatever was in my bloodstream along, some other symptoms occurred, but luckily nothing in threatening my throat, or my life.  The turn around came and went and I found myself running well.  As I ran against the grain, my salmon instincts kicked in and I fought my way up the hills I just ran down.  While doing so I don't think there was anyone who didn't offer some congratulatory/inspiring remark (ultrarunners are one heck of a community).  It was great seeing my WUS running peeps, too.  Seeing them made me speed up immediately and had lingering effects miles after.  My teammate, Brittany, even shouted, "I'll trip the next guy behind you" (aww what a sweetheart).   The finish came, and then we ate like kings and chewed the fat with fellow runners, race directors and anyone else hanging around.  Good times.
Race Report IV: What a Long Strange Trip it Was (Andrish)
After a series of poor races last year, I'd taken a few months off from racing and decided last November that I'd ease my way back into racing by running the Uwharrie Mountain Run 20-miler because I've it's a course I'm familiar with and enjoy very much…short climbs, rocky trails, and several stream crossings.  I talked a few WUSsies into accompanying me on my journey to North Carolina.  That's about where my typical racing experience ended.
Logistics were a point of contention:  the guys (me and Brian) thought it would be best to travel to NC on Friday, run the race Saturday morning, and return to DC Saturday evening.  Martha and Brittany disagreed.  We took a vote and although it was a draw, the girls naturally got their way and we decided to make it a full weekend adventure.
The drive down to NC was relatively uneventful.  I was glad that we were able to stop and find a couple geocaches.  Although Martha and I had gone geocaching a couple times before, she had never actually found a cache, so I was relieved when we found one and that Brian, Martha, and Brittany humored me by stopping to find a few more geocaches along the way.
The pre-race meeting and dinner was fun, at least after Martha was officially entered into the race.  I got to visit with several ultrarunning friends who I see very infrequently.  One of the things I enjoy most about the sport of ultrarunning is that it is still a relatively small community and no matter where I travel around the country I get to visit with trail running friends.  My socializing is not always appreciated by my running buddies (i.e. Leesburg Mafia members) because I can end up talking to fellow runners for hours while everyone is waiting to leave.  Luckily, Brian, Martha, and Brittany did not seem to mind too much, or at least they didn't give me a hard time about it.
I had entered the 20-miler expecting to run a low-key race with no real pressure.  However, at the pre-race dinner I learned that the 20-miler was part of the La Sportiva mountain running series and the field was very competitive.  So much for a relaxed run in the woods!  After accepting the fact that it was going to be a tough race, I eagerly anticipated running a race that is much shorter than my usual events and against several elite runners.
The race itself was challenging, humbling, and encouraging.  My typical race strategy is to go out hard, lead from the start, and try to get out of sight/out of mind.  Unfortunately, this was the first time I'd ever been dropped right from the start.  Within the first half-mile, I was dropped by a group of runners who are used to racing short races and who thrive on climbing; neither of which are my strengths.  I then decided that the best thing I could get out of the race was to try and stay mentally tough and not give in to the fact that I was not going to be competing for the win.  Since it was a short race, I felt obligated to run more of the climbs than I usually do.  That hurt a lot!  At the start of the race I'm always gasping for air as my body adapts to the hard effort.  Usually this feeling subsides within the first mile, but I was trying so hard to keep the leaders in sight that I gasped for air for what seemed like the first 6 – 8 miles!  While the fast-paced race tired me out quickly, I was able to enjoy the sensation of flying down rocky descents faster than the runners around me.  Aside from the rocky downhills, my other favorite part of the race was splashing through the stream crossings which were cold, but felt refreshing.
Since I wasn't in great shape, I slowed down significantly in the second half of the race and worried that my time for the 20-mile race would be slower than my time for the first half of my best 40-mile Uwharrie race.  With that in mind, I worked through the rough stretches and finished respectably.  Although I was far behind the top finishers, I accomplished my goal of getting my head back into racing and staying mentally tough throughout the race.
The aid station at the 20-mile finish line/40-mile turn-around was incredible.  I was very grateful that there was a heated tent in which to relax, have some hot soup, and some recovery drinks. Especially since Martha had convinced me that I didn't need to have any warm/dry clothes at the finish ("don't worry, our car will be at the finish and you'll be able put on warm clothes").  Never believe a word Martha says about a race!
Oh…I almost forgot the best part of the aid station at the finish line:  the homemade cookies!!
I had mixed results when it came to nutrition this weekend.  I couldn't convince the others that Cici's Pizza was the perfect pre-race dinner.  One of these days they'll try it and realize that I was right and they'll see improvement in their race results!  On a positive note, I was able to convince Brian that Sheetz has a wide range of tasty/healthy food.
I'm glad that Rob was willing to join our crazy group for the weekend.  The more the merrier!  I just wonder if spending the weekend with our WUS group will scare him away from going anywhere with us again.  I do hope he becomes part of our group of crazy runners.  He seems to fit in nicely.
Postscript (Nelson)
In addition to all the fun and games, Team WUS is also about personal development: Sean learned how to shower after a race (actually, he waited until the next morning, but at least he was in the vicinity of a shower instead of skanking up a car); Brittany learned to pass trucks on the highway; Rob learned the true meaning of 'friendship' to a bunch of ultrarunners: mooch ride, ditch at finish, mooch beds, snore all night, wake up at dawn; Brian learned not to eat cookies at aid stations; and I learned that you won't die from eating gas station food.  In August Team WUS will be convening again at the Cascade Crest 100-miler in Washington State, where the adventures will continue.  This includes Rob, proof that we did not scare him away as Andrish so feared, although Andrish, always the stubborn one, refuses to come.  I don't even think Greeley's sugar lips can talk him into it.  I'll be there, assuming I can run a 50-mile qualifier, no small feat for a girl who feels at death's door as soon the 26.2 marathon distance hits (I was able to crawl my way another 5 miles to finish the Laurel Highlands 50k, but it wasn't pretty).  It will take Zale's entire repertoire of high school cheers and Greeley as a start-to-finish pacer for me to have even a prayer at covering that kind of ground.  I'll admit, when I discovered the $25,000 in prize money being offered for the La Sportiva Mountain Cup, with perfect wimpy 20k-30k distances, I was awfully tempted to forget Team WUS and give that a real run for its money.  But at the end of the day, I'm just a-goin' wherever my WUSies are going, so time to brush up the living will* and see how many miles I can cover before I keel over.  'Til then, so long from the WUSies!
*Brittany can have the Italian dresses, Brian can have the Volvo, and Sean can finally have that bedroom he's been eying that overlooks the park.  (In keeping with the running theme of Uwharrie, Rob only gets shafted.)
Glossary
Cici's Pizza – nasty, greasy pizza chain frequented by the Leesburg Mafia (see below)
Keith Knipling – WUS runner, former occupant of WUS house (ever since he moved out he's become happier but slower and (self-proclaimed) fatter, despite joining a 'track club')
Kerry Owens – owner and proprietor of the WUS house in Woodley Park, which transforms mere mortals into ultrarunning greats; Sean, Brian, and Brittany and a few other DC ultrarunners currently live there (see Acknowledgments)
Leesburg Mafia – group of (actually, quite speedy) ultrarunner males living in Leesburg (best known for its Outlet Mall of cheap stuff with high-end labels) who compensate for the inferiority complex that is associated with living in such a town by creating an elitist clique with insurmountable random entry requirements (you have to actually live in Leesburg); I am certain that these are adult versions of those infuriating boys in elementary school who build really crappy tree houses but put up No Girls Allowed signs
Riders in the Country – should have featured more prominently in our race report, but Andrish wanted to go dumpster diving and cemetery crashing (ie, 'geocaching') instead on Saturday night.

Woodley Ultra Society (WUS) – what began as an informal trail running group created by the occupants of Kerry Owens's house to run casually in Rock Creek Park on Tuesday nights to take advantage of the ½ price (approximately) pizza deal at the nearby Cleveland Park Bar and Grill; the run continues on Tuesday nights from the WUS house, and has evolved considerably to include a wide range of paces, as well as other culinary options
Acknowledgments
The authors would like to acknowledge the following funding sources:
Inov-8 (Andrish), Kerry Owens (Andrish, Greeley, Zale), Tom Cali (Nelson), unwitting taxpayers (Nelson)
Competing interests
The authors have declared no competing interests.