The Tussey Mountainback Draft Relay Challenge (DCR) is the lovechild of fantasy football and road running. Aaron likes to characterize MountainBack as the race that occurs in November, but for which the preparatory email traffic starts in April, and the post-race analysis continues into January, such that there is only about a three-month window where my inbox isn't stuffed with Mountainback affairs.
This year we had six captains and teams of six, and there was the usual fanfare of sandbagging accusations and last-minute ringer subs with times far faster than the runners they were replacing. I was strongly accused of sandbagging because when bio submission time rolled around in July I was nursing several injuries and wasn't really running (IT and foot primarily but also hamstring). But I ran my first triathlon smack in the middle of captain-picking, and the fact that I could muster a 38 & change 10k after a 1 mile swim and 26 mile bike with a nagging hamstring roiled the seedings. Of course, I contended that it hardly mattered what my captain seed was, as my team was sure to be more wrapped up in beer than in winning come race day anyway.
The upshot of my unintentional sandbagging was that I got the first pick in the draft, which meant that Meira and I could at long last be united on a MountainBack team. In fact, I was flying back from Montana on draft day, so Meira picked my entire team for me. In predictable Meira fashion, there was disproportionate representation from the trail running community on our team. I was happy to have Thurley on our team, as well as some new faces with Ben, Sarah, and Ed.
As the only out-of-town captain, I shirk most of my captain responsibilities: picking teammates, choosing a name, ordering singlets, arranging for transport. I did propose a race order for the team, with Ed leading off on Leg 1, followed by JT, Sarah, me, Ben, and Meira. And I did register the team and agree to run the captain legs, which are the longest. But I dropped the ball big-time this year on one of my key captain responsibilities to make sure we have good music and we ended up being subjected to repeats of Meira's mix.  The silver lining was that the van was treated to Aaron's full delivery of the Jackson 5 while I was on Leg 4, which was acclaimed as the highlight of the day.
I am also notoriously bad at keeping my team's split times, which are key for the months-long post-race analysis. I did take the clipboard and fill in the boxes next to each runner for Goals: Ed's goal on Leg 1 was to beat the Mrs (his wife was running Leg 1 as well); JT's goal on Leg 2 was to not collapse (he's been ailing from a mysterious illness that his docs haven't been able to diagnose); Sarah's goal on Leg 3 was to beat Marty; my goal on Leg 4 was to not crap myself (as the last-ranked captain I was expected to be the slowest); Ben's goal on Leg 5 was to beat a road runner (Ben strongly identified as a trail runner); and Meira's goal on Leg 6 was just to kill it (Meira's a monster hill climber, and Leg 6 is about as killer a hill as you can get).
Aaron and I had spent the week before Mountainback working remotely from his house in Canaan Valley. It was gorgeous fall weather, and the valley was bursting with colors, and it was hard not to slip into putting on too many miles.
It was déjà vu all over again when I got the handoff to start Leg 4, and I found myself once again trailing Alan by about 30 seconds. Last year I'd spent the whole race chasing him but didn't quite catch him at the end.  Leg 4 is 5.3 tough miles, the vast majority of which climb straight up the mountain, so making that last move is asking a lot.  But I felt that I had wimped out last year in not making a stronger move, and when we hit the final quarter mile I made sure to pass Alan even after he tried to pass me back.  Overall, despite my injuries, I was really happy with my race and the strength I felt in my legs.  Maybe it's the biking and cross-training, but my quads felt really sturdy.  So even though my IT bands were goners and my right hamstring was useless, my quads held the act together.
My favorite part of this video is when Meira yells, 'Go Martha, you kept it in the pants!'  (I had told Meira that my little running jingle I tell myself is to 'keep it in the pants' to rein myself in when there's a danger I might go out too hard.)
Here are the final DCR stats (click to enlarge).  I was apparently not the poop captain this year when it came to keeping splits.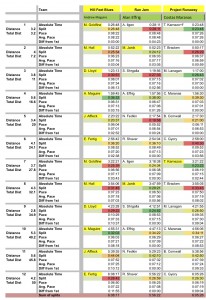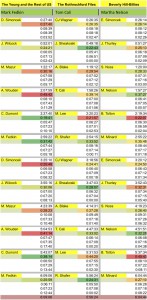 For me at least, MountainBack is more about catching up with your friends than running.  Since Eddie left Penn State for Australia, I haven't had nearly enough visits to State College.  So this year we spent an extra day after the race to spend some time with old friends and make a trip to Meyer Dairy, the happiest place on earth.
ps – There was also a big 50 mile race going on in addition to the relay that we were mildly aware of.   Aaron and I almost toppled a port-o-potty when a hapless spectator didn't let the first-place woman get priority for the restroom.  As expected, Mike Wardian and Connie Gardner won again, although none of the bluster about breaking records this year came to fruition.  We also had a lot of fun warning Renz about all the ladies that were going to pass him (they did).