May 12, 2013, Wilmington, DE
2nd place, 11th overall, 2:56
In the week following the Boston Marathon bombing I decided I wanted to run Boston next year in 2014. I've been on a three-year Boston plan, running Boston in 2006, 2009, and 2012, which is based on the fact that it seems to take me exactly three years to forget how painful running Boston was the last time (that course eats me alive, pushing me out too fast during the downhill start and then punishing me on the Newton hills). But the bombing struck a deep nerve, and when the racers lace up to face down their fears next year, I want to be there with them.
But given that Boston registration occurs in September and no one except the North Face dreams of holding a major running event during the steamy Mid-Atlantic summer (a mistake NF won't repeat), I had to scramble to find a marathon in the area to get my BQ (as you'll recall, the timing mats had been removed by the time we got to the starting line of the Baltimore Marathon in October, so I didn't have a qualifying time). In the nick of time I found the Delaware Marathon, a solid two weeks after Promise Land and a mere 2-hr drive from DC. I could trot a BQ easy and still have enough gas for some June races.
But then I came across this on the Delaware Marathon website:
Cash awards of $1000; $500; $250 will be given to the top three overall male and female marathon winners. Cash awards of $200 and $100 will be given to the top two overall male and female marathon masters winners.

A $1000 bonus will be given to the overall male and/or female winner if the fastest marathon time ever run on Delaware soil is set. The fastest marathon times ever run in Delaware are 2:25:12, by Michael Wardian of Arlington, Virginia, set at our 2011 Delaware Marathon™ and 2:59:24 by Feng Sun of Columbia, MD, who set the female record at our 2006 Delaware Marathon™.
Holy cow. Three thousand bucks for running under 2:59?? I hadn't run a sub-three hr marathon since Charlottesville in 2011, my hamstring was still bugging me, I had an exhausting work trip to Iowa planned the week before the race where I was organizing a workshop on phylogenetic analysis. But I had to give it a shot.
For those of you wondering why anyone would organize a workshop on phylogenetic analysis in Ames, Iowa, allow me to explain. For several years now I have been collaborating with researchers at the National Animal Disease Center at the USDA in Iowa who study influenza in swine. Since the 2009 swine-origin influenza pandemic, the USDA has received a lot more funding to sequence the genomes of influenza viruses collected from US swine for analysis. Hence, the purpose of this workshop was to train scientists at the USDA (and other special invited guests, including two very charming ladies from Brazil) how to analyze this molecular data. And that's where I come in, along with my friend at USDA Tavis and my Fogarty colleague Cecile.
One morning I went on a run on what was called a 'nature trail' only to find life-sized plastic animals popping out. I soon realized that each animal was strategically placed before a backboard that was full of bullet holes. Oh, that kind of nature trail. On our first night Cecile and I tried to walk from our hotel to the downtown of Ames (exactly 4 blocks of Main Street) and found ourselves marching through industrial waste sites, walking along train tracks (and across train bridges, in keeping with the Stand By Me theme), and through a cemetery, which was refreshingly civilized compared to the toxic waste sites. After that adventure, we let our new friends Doug and Andres chauffeur us around.
Aaron picked me up at the airport and we scurried off to see Josh Ritter at the 9:30 club. From listening to Josh Ritter's plaintive songs you would never expect him to be so giddy on stage. I was ready to keel over from too many days of teaching people who to get Bayesian programs running on their PCs (I'm a Mac girl), but I couldn't quit on Mr Ritter's enthusiasm and I hung in there til the end.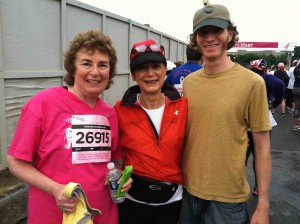 The next morning we ran the Race for the Cure 5k with our moms. Aaron's mom Rosemary won her age group, a mighty comeback after fracturing her pelvis skiing in Colorado in January. My mom won the windmill category, and proudly sported her pink survivor shirt. We met up with the dads and treated the moms to brunch at the Hamilton.
After brunch we scurried up rt 95 to Wilmington for packet pick-up and checked into the Fairview Hotel. Inauspiciously, the hotel check-in clerk sat behind bullet-proof glass and there was a sign saying that if you wanted a refund on your room you had to declare it within ten minutes of checking in. There were lots of people loitering in the parking lot. A review Aaron read had complained that someone had been shot the night they stayed. Welcome to Wilmington! Fortunately, Boots had given us a good recommendation to eat at BBC Brewery, so we shot over to the ritzier part of town before collapsing for the night at the Fairview. We watched some quality television, including Top 10 NFL Divas (my favorite by far was Joe Namath, coming it under-ranked at #6), and conked out before 10. I was quickly stirred by the deep beat of a nearby all-night dance party, which kept me awake until 3am, and I woke up at 5:30am having slept so little that I wasn't even drowsy, just fried.
We made it over to the marathon with plenty of time to spare, a great relief after our Baltimore start fiasco. I had been assigned an elite number and entrance to an elite tent, which was supposed to have a masseuse and water and gatorade and various amenities. In actuality, the elite tent had nothing but folding chairs and bored runners. The weather was perfect, cold at the start. While I waited for Aaron to finish pooping I was shivering so much that a lady I didn't know came up and hugged me. 'I couldn't help it, you were covered in goose bumps. And it's Mother's Day after all.' At the starting line we ran into VHTRC friends Steve Core and Karsten Brown — the race had a small-town friendly feel.
Here's a run-down of my race:
Mile 1: Aaron lets me go ahead. I let two female runners go ahead, positioning myself into 3rd. Aaron catches me around mile 2 and we run together for a while.
Mile 3: I discover that I have to pee really bad. I knew that prize money went three deep, so I really didn't want to stop to pee and lose my place. So I told Aaron that I was going to perform one of my extra special tricks: I closed my eyes, relaxed, and peed without breaking stride. It took several repetitions to let it all out, but that was so much better than running for the next three hours on a full bladder.
Mile 4: We start to catch relay runners. There were only 750 registered for the marathon, but there were another couple thousand signed up for the half marathon and the marathon relay, so there was a healthy density of runners on the course and a wide array of signs directing different running groups in different directions. The many volunteers at key intersections did a fabulous job of keeping all the various groups of runners on their respective courses.
Mile 5: We leave the Wilmington downtown and have a lovely stretch through a park along a creek, which reminded me a bit of Rock Creek and made me very happy (particularly the family of baby geese). Although it was cool, the sun was hot, and the canopy of trees was greatly appreciated.
Mile 6: I thought Delaware was pancake flat, but this race somehow managed to find the state's one hill and make us run it twice (it was a 2-loop course). I know this ~150 foot hill is peanuts for trail runners, but for roadrunners it was substantial.
Mile 8: Aaron and I part for a bit, Aaron letting me push on ahead. Volunteer yells at him to 'not let that girl beat you!'
Mile 9: I pass the woman ahead and move into second place, where I remain the rest of the race.
Mile 12: I almost get hit by a car speeding across the intersection as I complete the first loop (Karsten was with me and can attest).
Mile 13: I go through the half in just under 1:27, which seems pretty reasonable to me. My goal is to run under three.
Mile 14: My hamstring relaxes, but something in my stomach appears to be off. I feel like I have to take a poop. I won't go into the gory details (I already traumatized you enough with my pee story), but I had signs of internal bleeding and all was not quite right down there. It didn't bother me terribly, and I felt pretty darn good the whole race, but it was a good five hours after the race before I could keep anything from running straight through me. Thank god it was only 26 miles or that race would have turned for the worst.
Mile 25: With the lead woman out of sight (she finished in 2:52 and apparently can run much faster) and ahead of the third place woman by miles (she finished in 3:11), I had little incentive to push the last miles. I've had so many miserable finishes to marathons that I consider it a key part of my development to learn that I can finish a marathon without entertaining thoughts like 'Wouldn't it be nice if I got run over by a bus right now' or 'When this race is done I'm going to sit in a wheel chair and pretend I can't walk and never get up…for the rest of my life' or most commonly 'This is the last race I am ever going to run, for real'. But Aaron caught up to me with one mile to go and made me fly home with him. Okay, we most definitely weren't flying, we might have been going sub-7, but I squeezed some of the last juice out of my calves.
Mile 26.2: I was happy with 2:56, just behind Karsten. I hadn't run a sub-3 marathon since Charlottesville over two years ago, which was the last marathon I really raced (because of Boston's heat and Baltimore's logistics those marathons weren't really true races). Although I didn't win and get the big pot, I was happy with $500 for second.
I wanted to hang out at the finish and see Steve Core finish, but I kept pooping blood and my stomach hurt bad, so we headed back to our hotel and hit the road. When we got home we watched movies and TV all afternoon and evening. My stomach was fine and we had Thai food. We watched Django Unchained. I liked the KKK scene with Jonah Hill. I slept so hard.
Name:  Martha Nelson
Bib #:  14
Gun Time:  2:56:43.2 ( 6:45/mile)
Chip Time:  2:56:41.2
5 Mile Split:  33:41.9
Half Split:  1:26:56.3
18 Mile Split: 1:59:36.6
Overall Place:    11/599
Age Group Place:  2/36 (Female 30 to 34)